Jetta Fix
You can also view the video on youtube here:
https://www.youtube.com/watch?v=inExw5OKang
Jetta Trunk Fix Kit 
Price: $29.99 
Works On All VW Jetta & Bora MK IV models 
Volkswagen Jetta, Bora: MKIV Series is years 1999.5 to 2005 and later years in other countries
Description: The only Jetta Trunk Fix!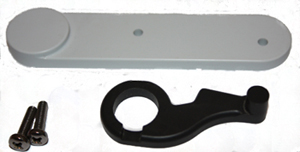 This site was last modified on: Wednesday 06 April 2016
Quick Delivery and Quick Fix
I ordered my Jetta Trunk Fix later on a Monday evening and I received in the Thursday mail. The hardest part of this fix was crawling into the trunk from the back seat and removing the screws and panel to get to the broken part. The "fix" didn't require any more dis-assembly. The part slip over the broken piece and the included screws go right into place like VW had designed the "fix" to be installed when the OEM part breaks. Literally a 1 minute fix.

I hand tightened the screws to see if I needed to make any adjustments, which I did not. I tightened the screws and replaced the panel in trunk, now I can use my trunk again with out going through the back seats.

The fix cost less then the dealer part and It looks more sturdy. I give it 5 stars.

November 22, ...
David
(
South Windsor, CT
)
11/22/2013 06:29pm
Who's Online
We have 4 guests online