Jetta Fix
You can also view the video on youtube here:
https://www.youtube.com/watch?v=inExw5OKang
Jetta Trunk Fix Kit 
Price: $29.99 
Works On All VW Jetta & Bora MK IV models 
Volkswagen Jetta, Bora: MKIV Series is years 1999.5 to 2005 and later years in other countries
Description: The only Jetta Trunk Fix!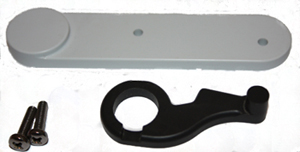 This site was last modified on: Wednesday 06 April 2016
Back up and running!
The Youtube tutorials worked well for instalation. I was not able to open my trunk by the method depicted because a piece of broken plastic wedged into the internals of the latch mechanism necessitating the removal of the latch. Once the parts arrived, all were reinstalled and adjusted. The installation of parts took maybe five minutes total. It works well--bravo for R&D and market...
Dave Alderman
(
Wisconsin
)
09/28/2011 12:33pm
Who's Online
We have 2 guests online